Quotes about family and friends are always a great source of inspiration in times of need. The great gift of family life is to be intimately acquainted with people you might never even introduce yourself to, had life not done it for you. The love of family and the admiration of friends are much more important than wealth and privilege. The families teach us the importance of education, knowledge, effort and hard work. It also teaches us of having fun, enjoying ourselves, keeping healthy and fit.
Everyone at some point in their life is looking for that extra push so that they can feel better and get where they should be. And a lot of times they need to get that extra push on their own and that is the reason self help books and self help quotes are so popular among people of every age. They help people to feel better and there are millions of quotes that can be very helpful for you in every situation and they will make you feel better.
Family Quotes is the way to find out that your life is beautiful. It helps you to make your friendship and relationships better through its meaning when we understand it. It is also about life, love and more quotes.
Family traditions help us understand about us, they offer something reliable, safe and steady in a baffling world. A family is a unit composed not only of children but of men, women and an occasional animal. So family it is not flesh and blood but the heart which makes us fathers and sons. Here we can find the family love quotes that make better our relations.
Life is all about risks and it requires you to jump. Don't be a person who has to look back and wonder what they would have or could have had. No one lives forever so learn to live happy. It is also kind of source to creating an idea through its saying and meanings. In the quotes here, you can also find out the family quotes and sayings.
–
–
" You don't choose your family. They are God's gift to you, as you are to them. "
– Desmond Tutu
–
" The love of family and the admiration of friends is much more important than wealth and privilege. "
– Charles Kuralt

–
–
" Knowledge is power. Information is liberating. Education is the premise of progress, in every society, in every family. "
– Kofi Annan
–
" Family is not an important thing. It's everything. "
– Michael J. Fox

–
–
" Family means no one gets left behind or forgotten. "
– David Ogden Stiers
–
" To enjoy good health, to bring true happiness to one's family, to bring peace to all, one must first discipline and control one's own mind. If a man can control his mind he can find the way to Enlightenment, and all wisdom and virtue will naturally come to him. "
– Buddha

–
–
" Feelings of worth can flourish only in an atmosphere where individual differences are appreciated, mistakes are tolerated, communication is open, and rules are flexible – the kind of atmosphere that is found in a nurturing family. "
– Virginia Satir
–
" Positive feelings come from being honest about yourself and accepting your personality, and physical characteristics, warts and all; and, from belonging to a family that accepts you without question. "
– Willard Scott
–
–
" A happy family is but an earlier heaven. "
– George Bernard Shaw
–
" All happy families are alike; each unhappy family is unhappy in its own way. "
– Leo Tolstoy

–
–
" When everything goes to hell, the people who stand by you without flinching — they are your family. "
– Jim Butcher
–
" One day you will do things for me that you hate. That is what it means to be family. "
– Jonathan Safran Foer
–
–
" Show me a family of readers, and I will show you the people who move the world. "
– Napoléon Bonaparte
–
" I believe that the greatest gift you can give your family and the world is a healthy you. "
– Joyce Meyer

–
–
" To us, family means putting your arms around each other and being there. "
– Barbara Bush
–
" The great danger for family life, in the midst of any society whose idols are pleasure, comfort and independence, lies in the fact that people close their hearts and become selfish. "
– Pope John Paul II

–
–
" That's what I do this for, to secure my family's future. I don't care about anything else. I'm able to spoil people, and that's the best thing. "
– Conor McGregor
–
" I sustain myself with the love of family. "
– Maya Angelou

–
–
" You can kiss your family and friends good-bye and put miles between you, but at the same time you carry them with you in your heart, your mind, your stomach, because you do not just live in a world but a world lives in you. "
– Frederick Buechner
–
" Family isn't something that's supposed to be static, or set. People marry in, divorce out. They're born, they die. It's always evolving, turning into something else. "
– Sarah Dessen
–
–
" Let us make one point, that we meet each other with a smile, when it is difficult to smile. Smile at each other, make time for each other in your family."
– Mother Teresa
–
" This is part of what a family is about, not just love. It's knowing that your family will be there watching out for you. Nothing else will give you that. Not money. Not fame. Not work. "
– Mitch Albom
–
–
" The family is the test of freedom; because the family is the only thing that the free man makes for himself and by himself. "
– Gilbert K. Chesterton
–
" Heavenly Father has assigned us to a great variety of stations to strengthen and, when needed, to lead travelers to safety. Our most important and powerful assignments are in the family. They are important because the family has the opportunity at the start of a child's life to put feet firmly on the path home. "
– Henry B. Eyring
–
–
" I have a dream of re-creating the fantastic family I grew up in with my brother and my parents. I am lucky that I have such a good image of family life – my father and mother are still in love, still happy. "
– Caterina Murino
–

" The other night I ate at a real nice family restaurant. Every table had an argument going. "
– George Carlin

–
–
" Dignity is not negotiable. Dignity is the honor of the family. "
– Vartan Gregorian
–
" The greatest thing in family life is to take a hint when a hint is intended-and not to take a hint when a hint isn't intended. "
– Robert Frost
–
–
" I believe the world is one big family, and we need to help each other. "
– Jet Li
–
" People are pretty forgiving when it comes to other people's families. The only family that ever horrifies you is your own. "
– Douglas Coupland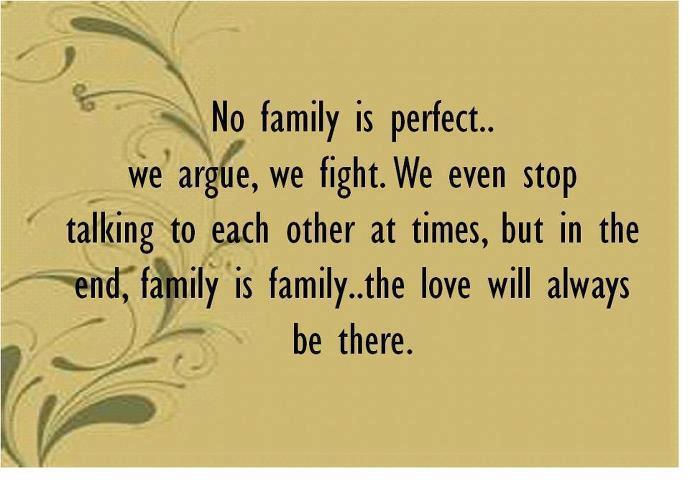 –
–
" The family exists for many reasons, but its most basic function may be to draw together after a member dies. "
Stephen King
–
" We are not defined by the family into which we are born, but the one we choose and create. We are not born, we become. "
Tori Spelling
–
–
" A dysfunctional family is any family with more than one person in it. "
– Mary Karr
–
" There is no such thing as fun for the whole family. "
– Jerry Seinfeld

–
–
" There's nothing that makes you more insane than family. Or more happy. Or more exasperated. Or more . . secure."
– Jim Butcher
–
" My mother used to tell me that when push comes to shove, you always know who to turn to. That being a family isn't a social construct but an instinct. "
– Jodi Picoult
–
–
" You are born into your family and your family is born into you. No returns. No exchanges. "
– Elizabeth Berg
–
" Is this what family is like: the feeling that everyone's connected, that with one piece missing, the whole thing's broken? "
– Trenton Lee Stewart
–
–
" All families are psychotic. Everybody has basically the same family – it's just reconfigured slightly different from one to the next. "
– Douglas Coupland
–
" Family love is messy, clinging, and of an annoying and repetitive pattern, like bad wallpaper. "
– Friedrich Nietzsche

–
–
" There is no doubt that it is around the family and the home that all the greatest virtues, the most dominating virtues of human, are created, strengthened and maintained. "
Winston S. Churchill
–
" Writers will happen in the best of families. "
Rita Mae Brown
–
–
" A brother is like gold and a friend is like diamond. If gold cracks you can melt it and make it just like it was before. If a diamond cracks, it can never be like it was before. "
– Hazrat Ali Ibn Abu-Talib A.S
–
" A family can be the bane of one's existence. A family can also be most of the meaning of one's existence. I don't know whether my family is bane or meaning, but they have surely gone away and left a large hole in my heart. "
Keri Hulme
–
–
" He'd learned long ago: perfection isn't what families are all about. "
– Jamie Ford
–
" Family, friends and relationships are the blessings of the God. They are the best way to access God. "
– Amit Ray
–
–
" Family isnt about blood relationships, its about the meaning behind them. I realize now that sharing chromosomes is not the only way to having a family, its about the friendship behind it. "
– Sarah Dessen
–
" Each time you say hello to a stranger, your heart acknowledges over and over again that we are all family. "
– Suzy Kassem

–
–
" Maybe family were the people who came looking for you when you were lost. "
– Vikki Wakefield
–
" In every conceivable manner, the family is link to our past, bridge to our future. "
– Alex Haley

–
–
" Together we shared a bond not even death would violate. "
Dee Remy
–
" Cruel blows of fate call for extreme kindness in the family circle. "
Dodie Smith

–
–
" Together in our house, in the firelight, we are the world made small. "
– Jennifer Donnelly
–
" The world, we'd discovered, doesn't love you like your family loves you. "
Louis Zamperini
–
–
" Son, there are times a man has to do things he doesn't like to, in order to protect his family. "
– Ralph Moody
–
" Family's not family unless it's totally messing you up. I'm pretty sure that's the point. "
– Alexandra Bullen
–
–
" I'm not sure if I know any 'functional' families, if functional means a family without difficult times and members who don't have a full range of problems. "
– David Sheff
–
" I lay in the dark thinking about the difficulties of family, how crazy and crooked the stories of a bloodline can be."
– Patrick deWitt

–
–
" The best way to feel family is being part of it. "
– Sinelo Caliché
–
" Nobody, who has not been in the interior of a family, can say what the difficulties of any individual of that family may be. "
– Jane Austen
–
–
" Flea stared at us, 'I can't decide what's worse. Losing family members or not having a family member to lose'. "
– Maria V. Snyder
–
" I told myself that some families we get without asking, while others we choose.
And I chose those two. I think that's what you'd call a silver lining. "
– Jenny Valentine

–
–
" Family. Couldn't live with them, couldn't run a stake through them. "
– Chloe Neill
–
" The point is, you have family and friends who love you. You have a world out there just waiting for you to conquer it. You have a life that will be anything you make it. That's the point. "
– Malorie Blackman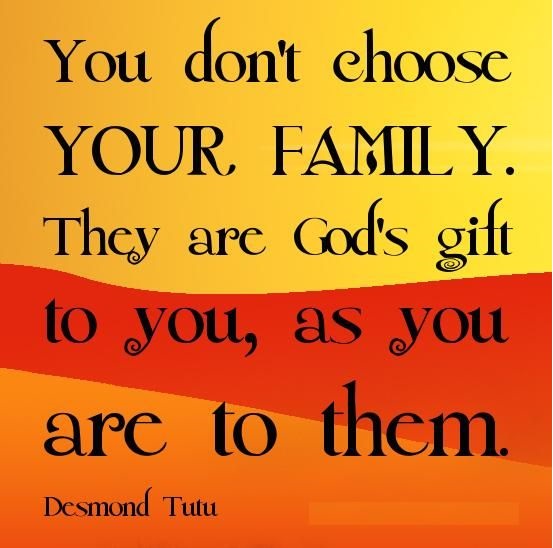 –
–
" This is my country, that is your country; these are the conceptions of narrow souls – to the liberal minded the whole world is a family. "
Virchand Gandhi
–
" Everyone needs a house to live in, but a supportive family is what builds a home. "
– Anthony Liccione

–
–
" When a family breaks you don't hear the crack of the breaking. You don't hear a sound. "
– Judy Blundell
–
" Sometimes, though, you have to do things for family, even if you'd rather not. "
– Patricia C. Wrede