The movie The Great Gatsby movie was a great Hollywood hit in 2013. The character of the great Gatsby played by Leonardo Di Caprio was loved by everyone. Not many people know the fact that the movie is actually based on a 1925 novel which was written by American author named F. Scott Fitzgerald.
The story of the novel was primarily concerned with the mysterious young millionaire Jay Gatsby who wanted the beautiful Daisy Buchanan with all his heart. Jay Gatsby was a believer of many things such as idealism, decadence, social upheaval and resistance to change.
The novel at first was not liked by many and hence only 20,000 copies were sold by it, however after the World War II, the novel revived and suddenly became a necessary part of the curricula of many American high schools. The novel also gained famous as many stage and film adaptations were made following it.
The Great Gatsby reached the heights of fame when the movie adaptation of it was made. Now, the novel is considered to be a literary classic and is ranked among some of the greatest works in American literature.
Although, the movie has a strong plot and a great storyline, the most amazing aspect was the dialogue. Some of the lines in the novel and the movie adaptation were so amazing that the readers and the viewer's remember it with their hearts. These dialogues touched the mind and soul of the viewers and had great insight if the person understands them correctly. Here are some of the favorite The Great Gatsby quotes.
–
–
" Tomorrow we will run faster, stretch out our arms farther… and one fine morning  we beat one, boats against the current, borne back ceaselessly into the past. "


–
–
"  I fell in love with her courage, her sincerity and her flaming self respect. And it's these things I'd believe in, even if the whole world indulged in wild suspicions that she wasn't all she should be. I love her and that is the beginning of everything. "


–
–
" I've been drunk for about a week now, and I thought it might sober me up to sit in a library. "


–
–
" In his blue gardens men and girls came and went like moths among the whisperings and the champagne and the stars. "


–
–
" He threw all those parties hoping she'd wander in one night. "


–
–
" Gatsby believed in the green light, the orgastic future that year by year recedes before us. It eluded us then, but that's no matter – tomorrow we will run faster, stretch out our arms farther… And one fine morning – so we beat on, boats against the current, born back ceaselessly into the past. "


–
–
" I wasn't actually in love but I felt a sort of tender curiosity. "


–
–
" There are all kinds of love in this world but never the same love twice. "


–
–
" The parties were bigger. The pace was faster, the shows were broader, the buildings were higher, the morals were looser, and the liquor was cheaper. "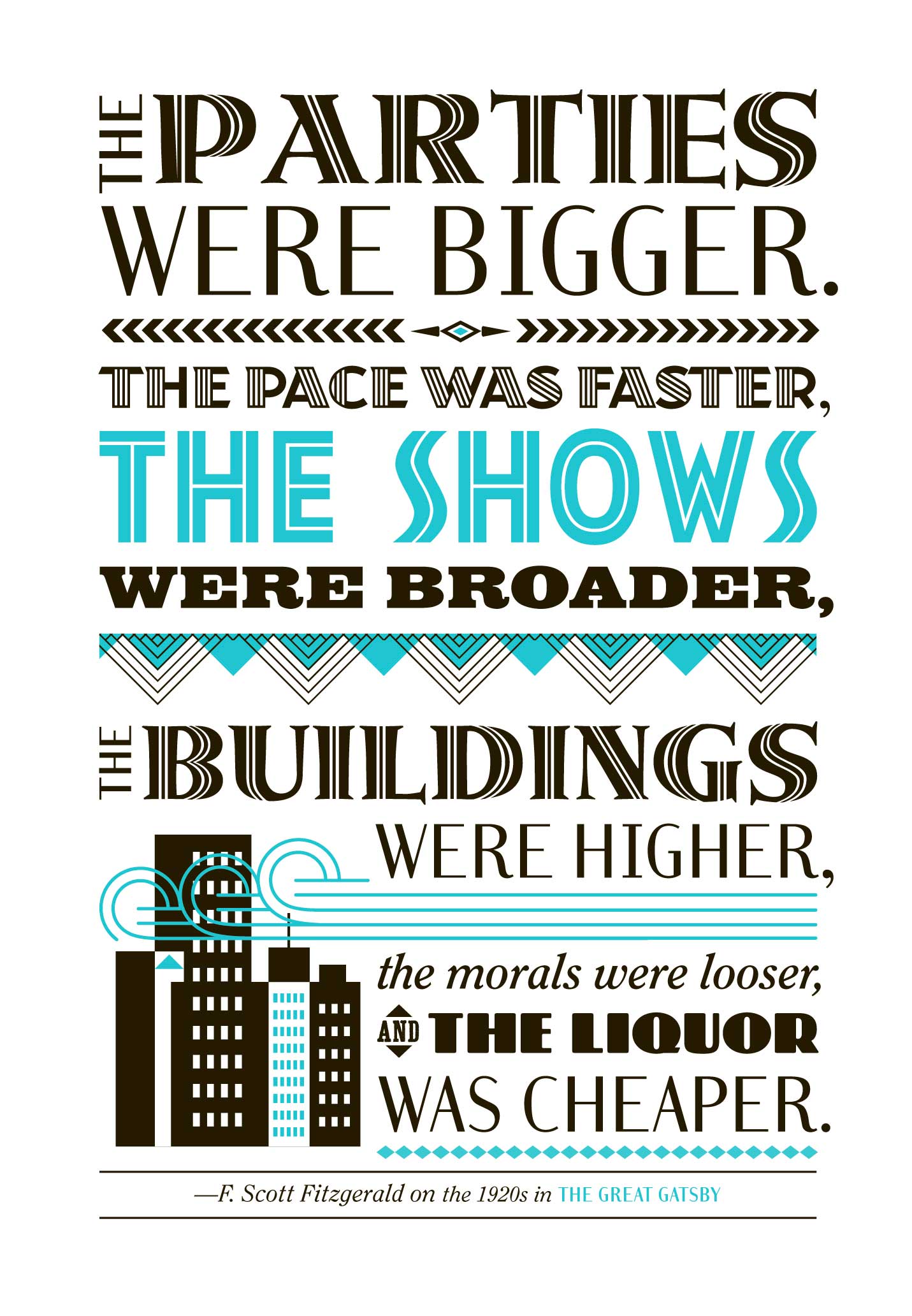 –
–
" Whenever you feel like criticizing any one just remember that all the people in the world haven't has the advantages that you've had. "


=
–
" Gatsby believed in the green light, the orgastic future that year by year recedes before us. It eluded us then, but that's no matter – tomorrow we will run faster, stretch out our arms farther… And one fine morning – so we beat on, boats against the current, born back ceaselessly into the past. "


–
–
" Breathing dreams like air. "


–
–
" I love her and that's the beginning and end of everything. "


–
–
" There are all kinds of love in this world but never the same love twice. "


–
–
" Her voice in full of money. "


–
–
" Reserving Judgements is a matter of infinite hope. "


–
–
" It takes two to make an accident. "


–
–
" No amount of fire and freshness can challenge what a man will store up in his ghostly heart. "


–
=-
" Life starts all over again when it gets crisp in the fall. "


–
–
" Gatsby looked at Daisy in a way that every young girl wanted to be looked at. "


–
–
" I like large parties. They are so intimate. At small parties, there isn't any privacy. "


–
–
" In his blue gardens men and girls came and went like moths among the whisperings and the champagne and the stars. "


–
–
" You must know Gatsby.
Gatsby? Demanded Daisy. ' What Gatsby'?
Before I could reply that he was my neighbor dinner was announced; wedging his tense arm imperatively under mine, Tom Buchanan compelled me from the room as though he was moving a checker to another square.
Slenderly, languidly, their hands set lightly on their hips, the two young women preceded us out onto a rosy-colored porch, open toward the sunset, where four candles flickered on the table in the diminished wind. "


–
–
" My life has got to be like this, it's got to keep going up. "


–
–
" So he waited, listening for a moment longer to turning-fork that had been stuck upon a star. "

–
–
" Blessed are the dead that the rain falls on . "


–
–
" And I hope she'll be a fool. That's the best thing a girl can be in this world. "


–
–
" There's a loneliness that only exists in one's mind. The loneliest moment in someone's life is when they are watching their whole world fall apart and all they can do is stare blankly. "


–
–
" So we beat on, boats against the current, borne back ceaselessly into the past. "