Quotes About Love
It is you who needs to awake and dig the truth of self from you. None on this Earth is just like you and will not carry out things as you do. Experience is the best teacher and knowledge will not be completed even though we leave this world. Every moment will teach a new wise thing of life. There are lots of cute quotes about love that are said by many great people which have helped us in many ways. Life can be lived by the way we desire.
Quotes of great souls will help as a turning point of life. Individuals who are not cared or not brought up in good atmosphere will go through these quotes about falling in love and try to change themselves and walk in a good path. There are many life quotes which are really amazing and can work wonders in the life of an individual There are quotes that insists on loving self where by life can be made much happier.
There are also few quotes that state not to compare yourself with others as all are made unique and you cannot be others and vice versa Love is a great feeling and to love others and being loved is a gift. All of them struggle for love and it is a blessing to get someone who loves you. Love can change any hard decisions and can compete with anything.
Love has many forms like the love given to parents, spouse, siblings and children or to a lover. All these forms are pure and spread the feel with no bounds Great lovers has also left us many love quotes that will spread the same feel and will change us from bad to good Love is a miracle which cures and this is proved by many great souls. The obstacle that the individuals face is the lack of time and few of them do not know show to express it.
Here there are innumerable quotes about love available from which you can choose the one you like and express in front of your love. Love and life is directly related. Your life will be worth living by spreading love and knowing self.
–
–
" We came together underneath the stars above. What stated out as liking, soon developed into love. I sense a certain something that, in my heart, felt so true that I knew I waited all my life to fall in love with you. "
–

–
–
" I fell in love with you. Not for how you look, just for who you are ( although you look pretty great too ). "
–

–
–
" People build up walls, not to keep others out, but to see who cares enough to break them down. "
–

–
–
" Everyone says you only fall in love once, but that's not true, because every time I see you, I fall in love all over again. "
–

–
–
" It's amazing how you can fall in love with a personal you didn't even notice the first time you meet them. "
–

–
–
" I'm in love with you and all your little things. "
–

–
–
" Wouldn't it be the perfect crime if I stole your heart, and you stole mine? "
–

–
–
" You're in my heart – you belong to me – I'll never let you go again. "
–

–
–
" Real love is not based on romance, candle light dinner and walks along the beach. In fact, is based on respect, compromise, care and trust. "

–
=
–
" Love is what makes two people sit in the middle of a bench, even if there is plenty of room at both ends. "
–

–
–
" Sometimes I feel why do I love you so much, sometimes I think it's not enough… sometimes I think If I could love you more than enough. "
–

=
–
" When I look into your eyes, it's like watching the night sky. "
–

–
–
" Should I smile because you are my friend or cry because that is we'll ever be? "
–

–
–
" It's not what I feel for you: It's what I don't feel for anyone but you. "
–

–
–
" A life lived in love will never be dull. "
–

–
–
" The best relationships involve trust, when both partners feel secure with each other, communication, understanding, honesty and not having to worry about cheating and lies. "
=

–
–
" Remember the day we first started talking to each other? 'Cause that's what started you and I. "
–

–
–
" Mine for now and for ever!
Holding you and will let go never! "
–

–
–
" The best kind of kiss is when you have to stop because you can't help but smile. "
–

–
–
" Your love is all I think about. "
–

–
–
" To me you are perfect. "
–

–
–
" A moment in my arms, forever in my heart. "
–

–
–
" We fall in love by chance, we stay in love by choice. "
–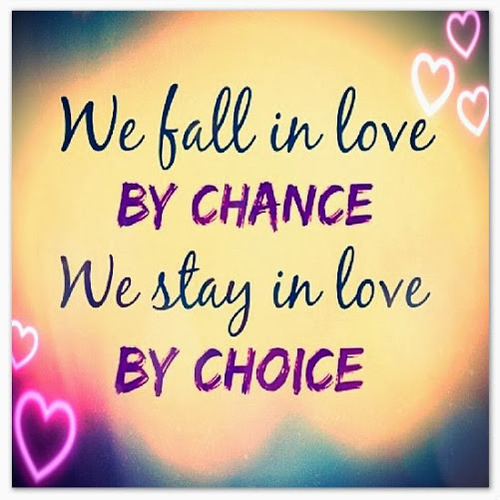 –
–
" She will chase you around for a while; but there's going to be a day when she's gonna stop running in circles around you. She's going to get over you & at that very moment you're going to wish you had let her catch you. "
–