Tattoo quotes are inking your body with a meaningful sentence. You know how it feels, you have read it over a book, and that has imprinted on your mind permanently. Many people do love to quote some of their favorite sentences from books and ink themselves. Some people simply love the quotes they have read over the internet, heard by the word of mouth or simply made on their own.
Tattoos are in trend. There are plenty of types of tattoos which people like to ink themselves with. But before getting indulged into something so permanent, we ought to make up our minds if we are up for it. Tattoos are the permanent marks that we leave on our body, and getting it replaced is sometimes very painful and risky.
Inspirational Tattoo quotes are one of the best types of tattoos as they are less regretful. When you have a particular quote stuck on your mind and when you know that you believe what it says, you'll surely not going to regret to have it inked. Quotes about life and love keep getting their way to us!
There are always in some news feeds, in some friend's heartfelt dialog, in some book or movie quotations, and they just get to us and we get so engrossed that we can't get over them. This happens especially because the meaning is deep and relatable.
The tattoo quotes that you're going to read below, is going to leave you with a similar feeling. You will love the designs, the concepts and you will have numerous ideas to have these inked on you. These are related to various subjects like life, love, motivation, inspiration, believes, religion, etc. Scroll down and look for some lovely quotes for tattoos and get yourself inked with the not so regretful tattoo!
–
–
" I listened to the old brag of my heart: I am, I am, I am. "

–
–
"  Let it out. Let it in. "
–
–
" But love, I've come to understand, is more than three words mumbled before bedtime. Love is sustained by action, a pattern of devotion in the things we do for each other and every day. "
–
–
" Do not go gentle into that good night,
Rage, rage against the dying of the light. "
–
–
" And miles to go before I sleep. "
–
–
" The greatest thing you'll ever learn,
is just to love and be loved in return. "

–
–
" Lord have Mercy "
–
–
" I am Enough the way I am… "
–
–
" Fate Fell Short"
–
–
" So dear I love him, that with him
all deaths I could endure,
without him live no life. "
–
–
" We live with the scars we choose. "
–
–
" Thanks for kissing me that day.
Thanks for slapping me. "

–
–
" Dream as if you'll live forever. "
–
–
" Death leaves a heartache no one can heal. Love leaves a memory no one can steal. "
–
–
" Dream as if you'll live forever
Live as if you'll die today. "
–
–
" Celebrate this chance to be alive and breathing. "
–
–
" Dream. Believe. Dare. Do. "
–
–
" Love Is All You Need"
–
–
" Only the strong survive "

–
–
" Life is not measured by the number of breaths we take but by the moments that take our breath away. "
–
–
" Don't dream your life, live your dream. "
–
–
" Life goes on "
–
–
"Dream. Hope. Love. Family. Believe. Strength. "
–
–
" I am the architect of my own destruction. "
–
–
" Lay down, lay down and wait like an animal. "
–
–
" Sometimes you have to fall before you fly. "
–
–
" Be the one to guide me, but never hold me back. "

–
–
" Live every moment. Laugh every day. Love beyond words. "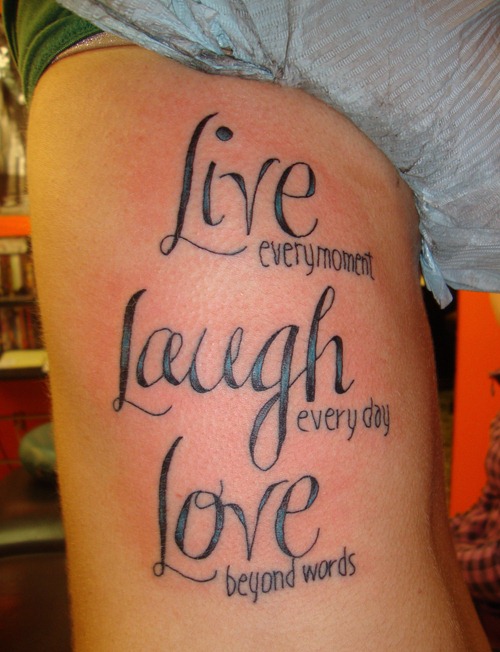 –
–
" I am the master of my fate;
I am the captain of my soul. "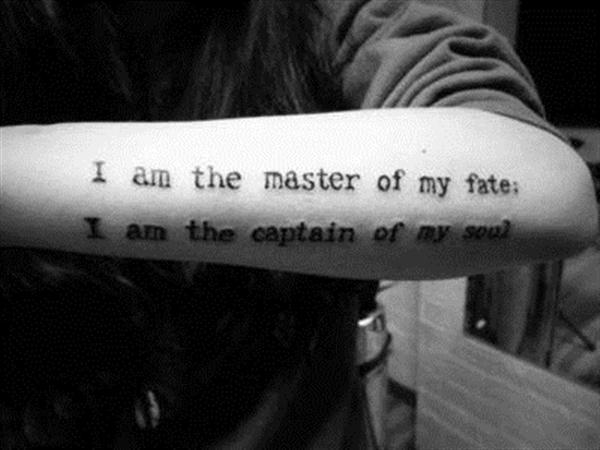 –
–
" Don't forget to love yourself. "
–
–
" Life flows on within you and without you. "
–
–
" To sleep, perchance to dream… "
–
–
" To die would be an awfully big adventure. "
–
–
" I should have been a pair of ragged claws,
Scuttling across the floors of silent seas. "
–
–
" I am not afraid. I was born to do this. "
–
–
" In the beginning God created the heavens and the earth. The earth was without form and void, and the darkness was upon the fave of the deep; and the spirit of God was moving over the face of  the waters. "
–
–
" I'll find a way to see you again. "
–
–
" Inhale The Future, Exhale The Past. "
–
–
" I carry your heart with me (I carry it in my heart.) "
–
–
" Sometimes you need to let things go. "
–
–
" You be the anchor that keeps my feet on the ground. And I'll be the wings that keep your head in the clouds. "
–
–
" This above all: To thine ownself be true. "
–
–
" There, but for the grace of God, go I. "
–
–
" There Is Always Hope"
–
–
" If you want to sing out, sing out. "
–
–
" We accept the love we think we deserve. "