Taylor Swift is an American singer, lyricist and actress. She was raised in Wyomissing, Pennsylvania, after which she moved to Nashville, Tennessee, for pursuing her career in country music. She had become the youngest songwriter after getting an independent label from Big Machine Records. The release for her self-titled album had marked a milestone for her career in 2006. Her third single named 'Our Song' made her the youngest person to pen-down and perform all on her own.  It had reached the top of the Hot Country Songs chart and her career took a new turn.
What makes Taylor unique from all the other competitors is the way she writes narrative lyrics. Her songs are like poems with rhythms! In this article, we will go through some of the best Taylor Swift quotes, which will let us know about some of her beliefs and practices.
The second album 'Fearless' had come out in 2008. This was the album which made her renowned all over the world with tracks of Love Story and You Belong With Me. He lets out very ordinary stories through her songs, which is why people can connect to it and they love her for her music. Not to forget, she also possesses a sensational voice which makes all the songs become even more special for the listeners.
Let us now go through some of the best Taylor Swift quotes and see what she has to say to her followers. These will let us know her a little better and we might also get something to learn from. Her quotes stresses on music, on life, on ordinary people's life and their concerns. She talks about self confidence, self worth and self-appreciation. Scroll through the quotes below and choose your favorite pick!
–
–
" Even if it ends badly it's worth it. If it made you feel something, If it thought you something. "


–
–
" Band-aids don't fix bullet holes. "

–
–
" When I have bad days that just won't let up, look in the mirror and remind myself of what I am and what I'm not. I am not my mistakes. "

–
–
" This life is sweeter than fiction. "

–
–
" This night is sparkling. Don't you let it go. I'm wonder struck , blushing all the way home. I'll spend forever wondering if you knew I was enchanted to meet you. "

–
–
" We should love, not fall in love because everything that falls gets broken. "

–
–
" Be that strong girl that everyone knew would make it through the worst, be that fearless girl, the one who would dare to do anything, be that independent girl who didn't need a man; be that girl who never backed down. "

–
–
" Everybody' waiting for you to break down. Everybody's watching to see the fall out. Even when you're sleeping, keep your eyes open. "

–
–
" The only words you'll regret more than the ones left unsaid are the ones you use to intentionally hurt someone. "

–
–
" It isn't history that makes heroes, it is heroes that make history. "

–
–
" I suffer from girl next door it is where the guy is friends with you and that's it. "

–
–
" I don't know how to be something you miss. "

–
–
" Some of us have been with her from Tim McGraw, others Love Story, others could have come over from The Hunger Games. Some of us have been to concerts, some of us haven't. Some of us collect merchandise, some of us don't. Some of us have even met her, some of us haven't had the opportunity. What's important is what all of us, all around the world, have in common: admiration and adoration of this woman's mind and music. "


–
–
" My thoughts will echo your name until I see you again. "


–
–
" So do what you want cuz I'm not what you wanted. "

–
–
" To me, fearless is not the absence of fear. It's not being completely unafraid. To me, fearless is having fears. Fearless is having doubts. Lots of them. To me, fearless is living in spite of those things that scare you to death. "

–
–
" People haven't always been there for me but music always has. "

–
–
" Please don't be in love with someone else. "

–
–
" Just be yourself. There is no one better. "

–
–
" Happiness and confidence are the prettiest things you can wear. "

–
–
" I only write songs about crazy love. If a go on two dates with a guy and we don't click, I'm not writing a song about that. "

–
–
" In a relationship each person should support the other; they should lift each other up. "

–
–
" Unique and different is the next generation of beautiful. "

–
–
" Fearless is getting back up and fighting for what you want over and over again even though every time you've tried before you've lost. "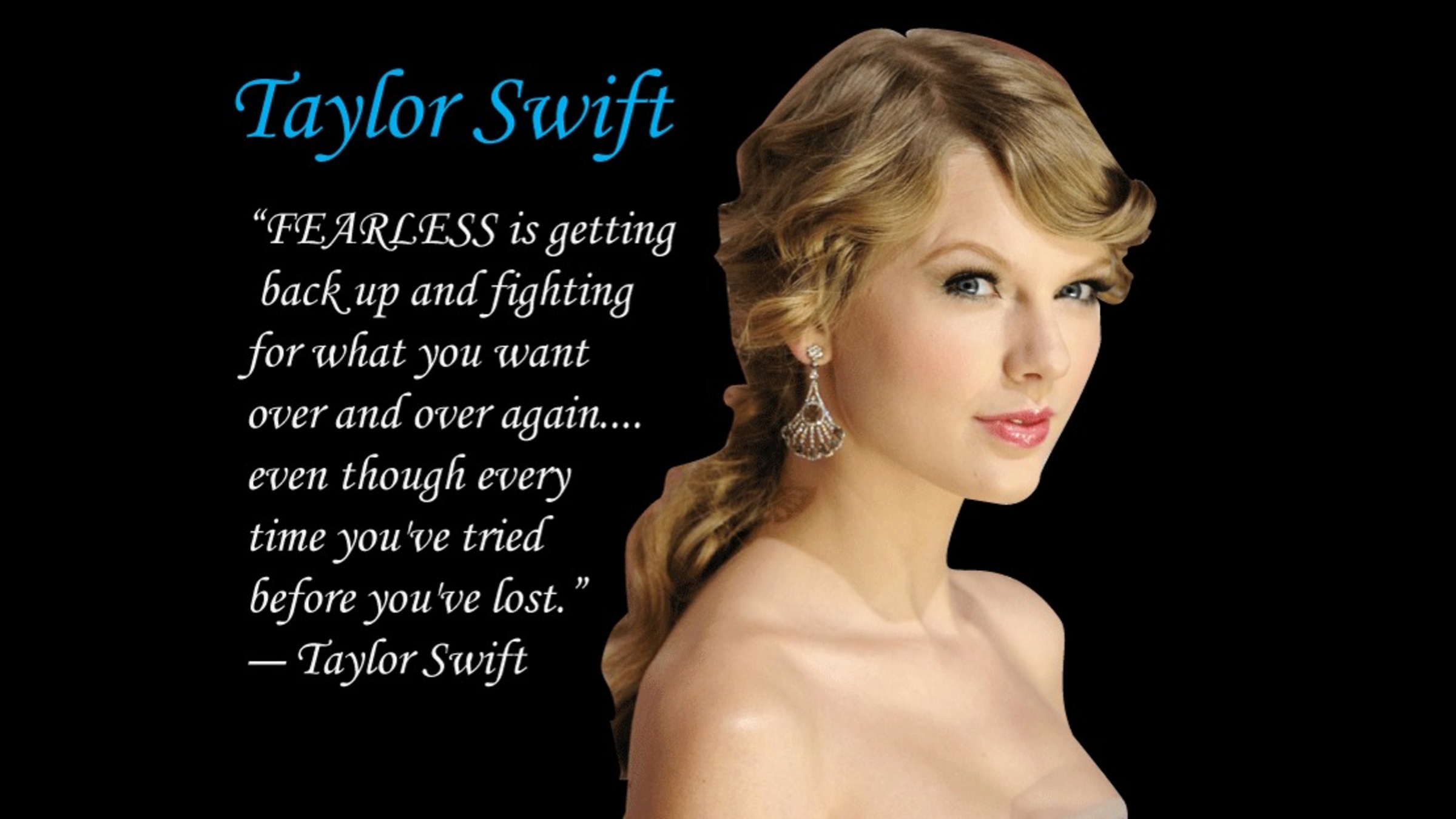 –
–
" I'm gonna find someone someday who might actually treat me well. "

–
–
" No matter what happens in life, be good to people. Being good to people is a wonderful legacy to leave behind. "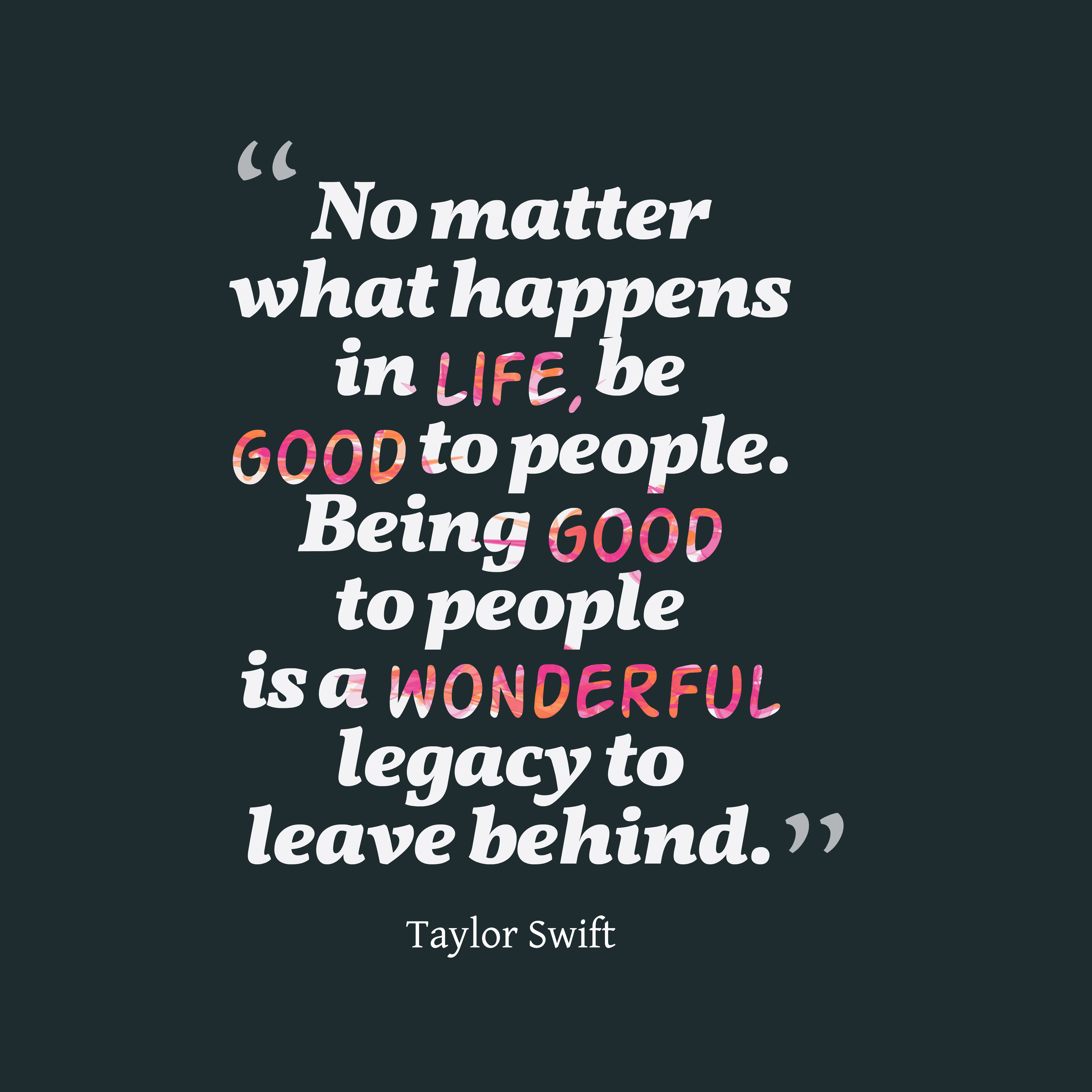 –
–
" I don't know about you but I'm feeling 22.
Everything will be alright if you keep me next to you.
You don't know about me but I bet you want to.
Everything will be alright if we just keep dancing like we're 22, 22. "


–
–
" I'm not afraid to write my feelings in songs. "

–
–
" I never really get to far from red lipstick, do I? I guess I just think my face looks worse without it. That's pretty much the only rationale behind it. "

–
–
" Real love still happens sometimes. It's not just something we make up when you're nine. I have to believe that you do too. "

–
–
" If someone really hurts you, you just have to let them go. "

–
–
" Do not compare yourself to others. If you do so, you're insulting yourself. "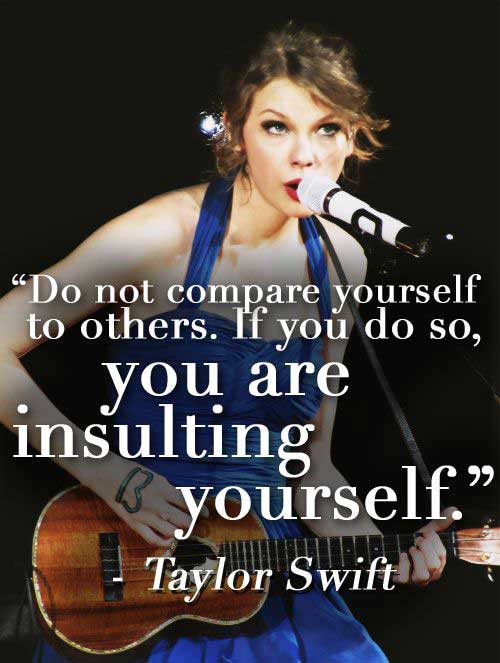 –
–
" People are software
running on hardware,
both built for lives
we no longer live. "

–
–
" In order for us to have gender equality, we have to stop making it a girl fight, and we have to stop being so interested in seeing girls try and tear each other down. It has to be more about cheering each other on as women. "

–
–
" You actually will move on and you actually will be fine and then that's when he may actually miss how incredible and special you are. "

–
–
" I'm just a girl, trying to find a place in this world. "

–
–
" What I've learned is not to change who you are, because eventually you're going to run out of new things to become. "

–
–
" Cause the players gonna play, play, play, play
And haters gonna hate, hate, hate, hate
I'm just gonna shake, shake, shake it off . "

–
–
" Darling, I'm a nightmare, dressed like a daydream. "