Uplifting quotes about life are the quotes which we want to read to ourselves when the times are difficult. These are like the medicine dozes or the magic potions which heal us immediately and make us dance in a different tune. It is very natural that life puts us through its bittersweet moments.
Sometimes we have to struggle, we have to be in a trail and sometimes we fail as well. Well failure is not a failure until you don't get up and fight back again. Thus, it's all about getting up and running the race again.
When times are low, when we almost feel like giving up, we tend to not realize how much we had already worked to get this far. We look at how long we'd still have to go but we don't look how far we have reached, even if the first plan has failed. It is easy to get discouraged about the next endeavor, but it is better put the negativity aside and work on plan B!
Positive uplifting quotes are here to help you just like a friend or a therapist would. These are some of the best quotes which people have shared through their own experiences, failures and successes. They have made us feel how they had felt when they were going through their trials and triumphs. Thus, these are surely going to help you take life a lot positively.
Uplifting quotes are some of the best quotes you'd ever read. They are not rosy like the love quotes or funny like the quotes we get on the daily news feed, but they are far more meaningful then what any of the other type of quotes can mean for you. These are your support during the tough times, and these are your gears ups for a better future. Scroll down and choose your perfect uplifting quote and maybe you'll like it enough to keep it as your status update!
–
–
" Let him that would move the world first move himself. "


–
–
" Around here we don't look backwards for very long. We keep moving forward opening up new doors and new things because we are curious and curiosity keeps leading us down new paths. "

–
–
" Just keep moving forward and don't give a shit about what anybody thinks. Do what you have to do, for you. "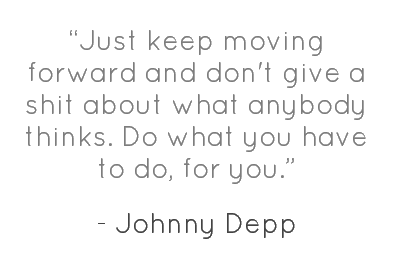 –
–
" Growth is painful. Change is painful. But nothing is as painful as staying stuck somewhere you don't belong. "

–
–
" Your life does not get better by chance, it gets better by change. "

–
–
" The worst part about being strong is that no one ever asks if you're okay. "

–
–
" To have faith is to trust yourself to the water. When you swim you don't grab hold of the water, because if you do you will sink and drown. Instead you relax and float. "

–
–
" Your work is to discover your world and then with all your heart give yourself to it. "

–
–
" But the Lord stood with me and gave strength. "

=
–
" Hardships often prepare ordinary people for an extraordinary destiny. "

–
–
" Maybe you have to know the darkness before you can appreciate the light. "

–
–
" I never look back, Darling. It distracts from the now. "

–
–
" Before you sleep, remember that it's ok to not be ok. We all have ours struggles. God loves you for who are you are, but too much to leave you that way. "

–
–
" The trouble is, you think you have time. "

–
–
" You're the ember to my flame when it gets dark. "

–
–
" Shoot for the moon. Even if you miss, you'll land among the stars. "

–
–
" Instead of wondering when your next vacation is, maybe you should set up a life you don't need to escape from. "

–
–
" Never let your mind tell you heart not to wander. "

–
–
" Keep your head up. Keep your heart strong. "

–
–
" Be the reason someone smiles today. "

–
–
" If you want to feel rich, just count all the things you have that money can't buy. "

–
–
" Problems are not stop signs, they are guidelines. "

–
–
" Friends are like stars you can't always see them, but you know they are always there. "

–
–
" Problems are not stop signs, they are guidelines. "

–
–
" Most great people have attained their greatest success one step beyond their greatest failure. "

–
–
" Find a place where there is joy, and the joy will burn out the pain. "

–
–
" We tend to forget that happiness doesn't come as a result of getting something we don't have, but rather of recognizing and appreciating what we have done. "

–
–
" It does not matter how slow you go so long as you do not stop. "

–
–
" If I persist long enough, I will win. "

–
–
" The problem with opinions is that even idiots are allowed to have them. "

–
–
" God determines who walks into your life. It's up to you to decide who you let walk away, who you let stay, who you refuse to let go. "

–
–
" Always stop and pray. "

–
–
" If you could only sense how important you are to the lives of those you meet; how important you can be to the people you may never even dream of. There is something of yourself that you leave at every meeting with another person. "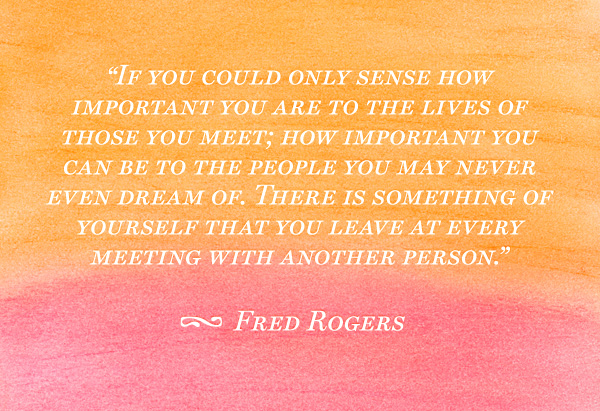 =
–
" A girl should be two things: who and what she wants. "

–
–
" Happiness resides not in possessions and not in gold. The feeling of happiness dwells in the soul."

–
–
" Prayer is the most powerful against trials, the most effective medicine against sickness and the most valuable gift to someone we care for. "

–
–
" Being happy doesn't mean everything is perfect. It means you've decided to see beyond the imperfections. "

–
–
" Positive thinking evokes more energy, more initiative, more happiness. "

–
–
" We don't meet people by accident. They are meant to cross our paths for a reason. "

–
–
" Don't let the noise of other people's opinions drown out your inner voice. "

–
–
" If you don't believe in miracles perhaps you've forgotten you are one. "

–
–
" It takes a great deal of bravery to stand up to our enemies. But just as much to stand up to our friends. "

–
–
" Only from your heart can you touch the sky. "

–
–
" In the end, we only regret the chances we didn't take. "

–
–
" Life is 10% what happens to me and 90% how I react to it. "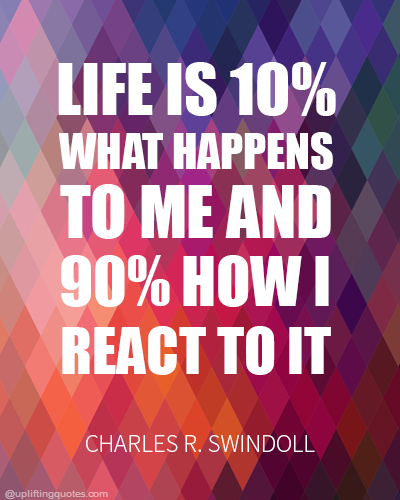 –
–
" Nothing can dim the light that shines from within. "

–
–
" Courage doesn't always roar, sometimes it's the quiet voice at the end of the day whispering ' I will try again tomorrow'. "

–
–
" Just because today is a terrible day doesn't mean tomorrow won't be the best day of your life. You just gotta get there. "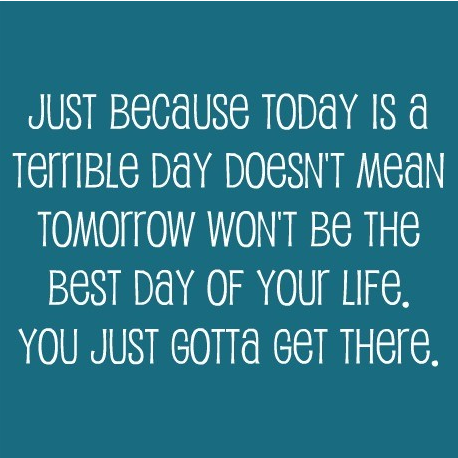 –
–
" Be kind, for everyone you meet is fighting a hard battle. "

–
–
" Its the gymnasium of life where you get the workout, the resistance, and you find out things about yourself that you did not know. "

–
–
" When someone loves you, they don't have to say it. You can tell by the way they treat you. "

–
–
" Don't let him have the satisfaction of knowing you'll always be there waiting. "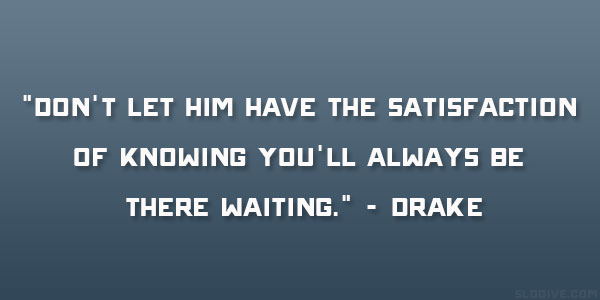 –
–
" Don't compare your beginning to someone else's middle. "

–
–
" Always believe that something wonderful is about to happen. "

–
–
" Our happiness or our unhappiness depends far more on the way we meet the events of life than on the nature of those events themselves. "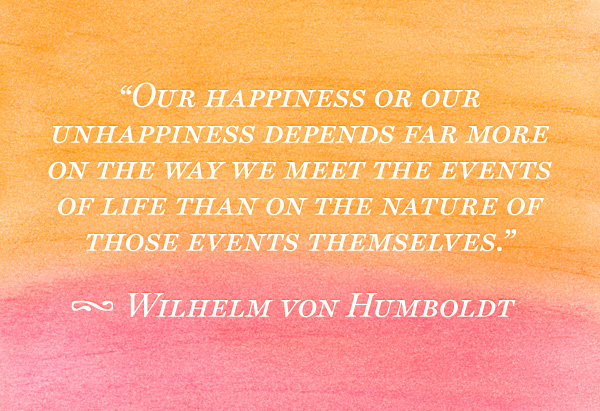 –
–
" The big secret in life is that there is no big secret. Whatever your goal, you can get there if you're willing to work. "

–
–
" Just when the caterpillar thought the world was over, it became a butterfly. "

–
–
" It feels amazing when you finally realize that you no longer need or want the person who walked away from you. "

–
–
" Even miracles take a little time."

–
–
" I'm not telling you it is going to be easy, I'm telling you it's going to be worth it. "

–
–
" Life begins at the end of your comfort zone. "

–
–
" Wise men talk because they have something to say; fools because they have to say something. "

–
–
" Before making judgement about others make sure your hands are clean. "

–
–
" If your dreams don't scare you, they are not big enough. "

–
–
" Before you judge me, make sure that you are perfect. "

–
–
" Butterflies don't know the color of their wings but human eyes know how beautiful it is. Likewise, you don't know how good you are, but others can see that you are special. "

–
–
" Friendship is always a sweet responsibility, never an opportunity. "

–
–
" The universe is always speaking to us. Sending us little messages, causing coincidences and serendipities, reminding us to stop, to look around, to believe in something else, something more. "

–
–
" You're mad. Bonkers. Off your head but I'll tell you a secret. All of the best people are. "

–
–
" What defines us is how well we rise after falling. "

–
–
" You are somebody's reason to smile. "