Wedding is the relationship between a man and his wife in which they share the most beautiful relationship there is. When a couple is in love with each other, they share one of the most amazing moments with each other. On a wedding anniversary, which marks the day when the couple got married, the couple spent some special time with each other and exchange gifts to mark the love which they have gathered over the years.
Here are some wedding anniversary quotes for people who are in the beautiful relationship of marriage and want to spend some romantic moments with each other and express their feelings about each other from their hearts.
A couple need to express their feelings for each other more often and what is a better occasion to do that than a wedding anniversary. If anyone is in the relationship of marriage, then he might need to speak the words of passion and desire. These happy wedding anniversary quotes may help anyone to know the exact words in which he can express your feelings to his loved one without having her realize that these words express feelings which are not real in any sense.
When feeling the feeling of love, the couple is able to spend all the time in their life with the one person they love and want. The feeling of love can make anyone feel in such a way which she they have never experienced before, which is in fact one of the greatest feelings anyone can ever feel in his entire life. Here are some of the wedding quotes. Enjoy!
Wedding Anniversary Quotes

–
" There is no more lovely, friendly and charming relationship, communion or company than a good marriage. "
– Martin Luther
–
" The secret of a happy marriage is finding the right person. You know they're right if you love to be with them all the time. "
– Julia Child
–
–
" May you live as long as you wish and love as long as you live. "
– Robert A. Heinlein
–
" Marriage is an act of will that signifies and involves a mutual gift, which unites the spouses and binds them to their eventual souls, with whom they make up a sole family – a domestic church. "
– Pope John Paul II

–
–
" A wedding anniversary is the celebration of love, trust, partnership, tolerance and tenacity. The order varies for any given year. "
– Paul Sweeney
–
" Chains do not hold a marriage together. It is threads, hundreds of tiny threads, which sew people together through the years. "
– Simone Signoret

–
–
" Some people ask the secret of our long marriage. We take time to go to a restaurant two times a week. A little candlelight, dinner, soft music and dancing. She goes Tuesdays, I go Fridays. "
– Henny Youngman
–
" Yes, it was love at first sight. I feel that after all these years, I have finally found my soul mate. "
– Barbara Hershey

–
–
" We are not the same persons this year as last; nor are those we love. It is a happy chance if we, changing, continue to love a changed person. "
– W. Somerset Maugham
–
" One should believe in marriage as in the immortality of the soul. "
– Honore de Balzac
–
–
" I think long-lasting, healthy relationships are more important than the idea of marriage. At the root of every successful marriage is a strong partnership. "
– Carson Daly
–
" After about 20 years of marriage, I'm finally starting to scratch the surface of what women want. And I think the answer lies somewhere between conversation and chocolate. "
– Mel Gibson

–
–
" The bonds of matrimony are like any other bonds – they mature slowly. "
– Peter De Vries
–
" Experts on romance say for a happy marriage there has to be more than a passionate love. For a lasting union, they insist, there must be a genuine liking for each other. Which, in my book, is a good definition for friendship. "
– Marilyn Monroe

–
–
" You were made perfectly to be loved – and surely I have loved you, in the idea of you, my whole life long. "
– Elizabeth Barrett Browning
–
" After 45 years of marriage, when I have an argument with my wife, if we don't agree, we do what she wants. But, when we agree, we do what I want! "
– Jacques Pepin

–
–
" Marriage is an alliance entered into by a man who can't sleep with the window shut, and a woman who can't sleep with the window open. "
– George Bernard Shaw
–
" Under this window in stormy weather I marry this man and woman together; Let none but Him who rules the thunder Put this man and woman asunder. "
– Jonathan Swift
–
–
" Marriage is a coming together for better or for worse, hopefully enduring, and intimate to the degree of being sacred. "
– William O. Douglas
–
" I love my wife, she deserves anything and everything. "
– Aaron Spelling

–
–
" Each year on the anniversary of Martin Luther King Jr.'s birth, America has the opportunity to reflect on our nation's progress towards the realization of his dream. "
– Adam Schiff
–
" That there's no more important decision in life than who you marry. "
– Brad Paisley

–
–
" Love grows more tremendously full, swift, poignant, as the years multiply. "
– Zane Grey
–
" I always took 'Coronation Street' a year at a time anyway. It was the 50th anniversary; I'd been there five years. It just felt right to leave. "
– Katherine Kelly

–
–
" It is a matter of public shame that while we have now commemorated our hundredth anniversary, not one in every ten children attending Public schools throughout the colonies is acquainted with a single historical fact about Australia. "
– Henry Lawson
–
" You will reciprocally promise love, loyalty and matrimonial honesty. We only want for you this day that these words constitute the principle of your entire life and that with the help of divine grace you will observe these solemn vows that today, before God, you formulate. "
– Pope John Paul II

–
–
" Marriage is the most natural state of man, and… the state in which you will find solid happiness. "
– Benjamin Franklin
–
" Next month, I will celebrate my 30th anniversary of marriage with my beautiful bride, Vicki. Our marriage has been a blessing. I have gained even more respect for the institution over the past 3 decades and will defend it against attack. "
– Todd Tiahrt
–
–
" Love is not weakness. It is strong. Only the sacrament of marriage can contain it. "
– Boris Pasternak
–
" For our anniversary, my wife and I went to see Godzilla, and then we ate at Barnyard Venice, and it was like, 'We are crazy! The Kardashians have to keep up with us!' "
– Bill Hader

–
–
" So while an incredible amount of progress has been made, on this fifth anniversary, I wanted to come here and tell the people of this city directly: My administration is going to stand with you – and fight alongside you – until the job is done. Until New Orleans is all the way back, all the way. "
– Barack Obama
–
" Married people from my generation are like an endangered species! "
– Patrice Leconte
–
–
" Never tell a secret to a bride or a groom; wait until they have been married longer. "
– E. W. Howe
–
" My mother and stepfather were married 43 years, so I have watched a long marriage. I feel like I had a very good role model for that. And, you know, it's just a number. "
– Jamie Lee Curtis

–
–
" We had a relationship that lasted 44 years. Herbert and I lived together 10 years before we were married. He always gave me a little heart for whatever anniversary. "
– Uta Hagen
–
" I dated a lot, but I never really had anyone who was worthy of an anniversary. And most girlfriends never made it to a year, anyway. "
– Wale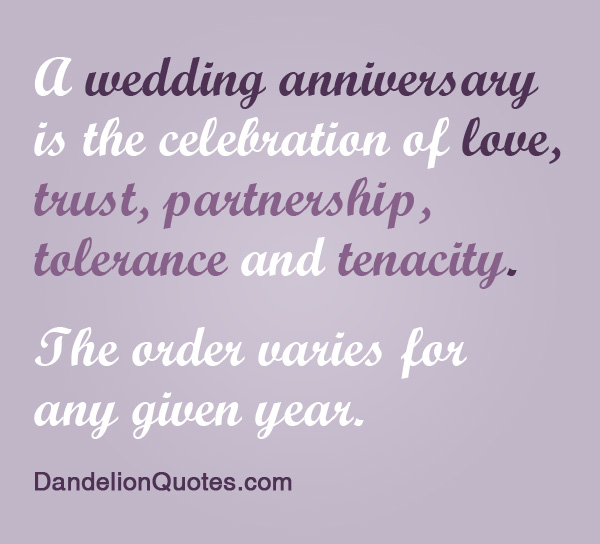 –
–
" Strike an average between what a woman thinks of her husband a month before she marries him and what she thinks of him a year afterward, and you will have the truth about him. "
– H. L. Mencken
–
" I think you have to be willing to take a bullet for somebody if you're going to stand up there, take your vows, and be married to them for the rest of your life. "
– Blake Shelton

–
–
" We invest less in our friendships and expect more of friends than any other relationship. We spend days working out where to book for a romantic dinner, weeks wondering how to celebrate a partner or parent's birthday, and seconds forgetting a friend's important anniversary. "
– Mariella Frostrup
–
" I love marriage. I think it's a wonderful institution and it's the most important decision you make. "
Isla Fisher

–
–
" In terms of my marriage, you know, falling in love with my husband was by far the best thing that's ever happened to me. "
– Caroline Kennedy
–
" I think we take it for granted that if you are with your husband after 30 years, then he is the love of your life. "
– Sue Townsend

–
–
" You marry somebody; you love everything about them. You grow to learn about them. You never learn everything. "
– Chris Daughtry
–
" The concept of two people living together for 25 years without a serious dispute suggests a lack of spirit only to be admired in sheep. "
– A. P. Herbert
–
–
" So I think you have to marry for the right reasons, and marry the right person. "
– Anne Bancroft