Let us go through some of the best Yogi Berra quotes, and see how they touch our hearts. Lawrence Peter aka Yogi Berra was an professional baseball catcher, coach and manager from America. He has played 19 sessions in the Major League Baseball between 1946 to 1965. He has been All-Star for 18 times and has a World Series for Championship for 10 times! He is one among five players who have won awards for the American League  as the Most Valuable Player. He is known to be one of the best baseball catchers in history. He was also elected in Baseball Hall of Fame, 1972.
Lawrence received the nickname Yogi during his teen years. He was then playing for the American Legion Baseball. One fine day, he had watched a film which had a short piece about India. A friend of his has noticed a resemblance between Lawrence and the Yogi (someone who practices yoga) on screen, and he gave him that name Yogi. Ever since he become more popular as Yogi Berra, than Lawrence Peter.
Yogi is not just popular for his skill in baseball and his funny name, he was also quite a  character which people looked up to. He had great reputation to be a talker, and people still look through his sayings and get inspired from them. In this article, we have listed down some of the best Yogi Berra quotes, which would make some meaning to all of us.
Through some of his finest quotes, you will understand some simple meanings of life, which we often don't realize. He has spoken about observation, which to him, is more important than simply watching. He has asked people to follow and known where they are going, else they'd end up in some other place. He is also said that something aren't over, even if you feel it is!
–
–
" Baseball is ninety percent mental and the other half is physical. "

–
–
" I knew I was going to take the wrong train so I left early. "

–
–
" Little league baseball is a very good thing because it keeps the parents off the streets. "

–
–
" Slump? I ain't in no slump. I just ain't hittin. "

–
–
" You can observe a lot just by watching. "

–
–
" You wouldn't have won if we'd beaten you. "

–
–
" The future ain't what it used to be. "

–
–
" In theory, there's no difference between a theory and practice. In practice, there is. "

–
–
" If you come to a fork in the road, take it. "

–
–
" I usually take a two hour nap from one to four. "

–
–
" Predictions are difficult especially about the future. "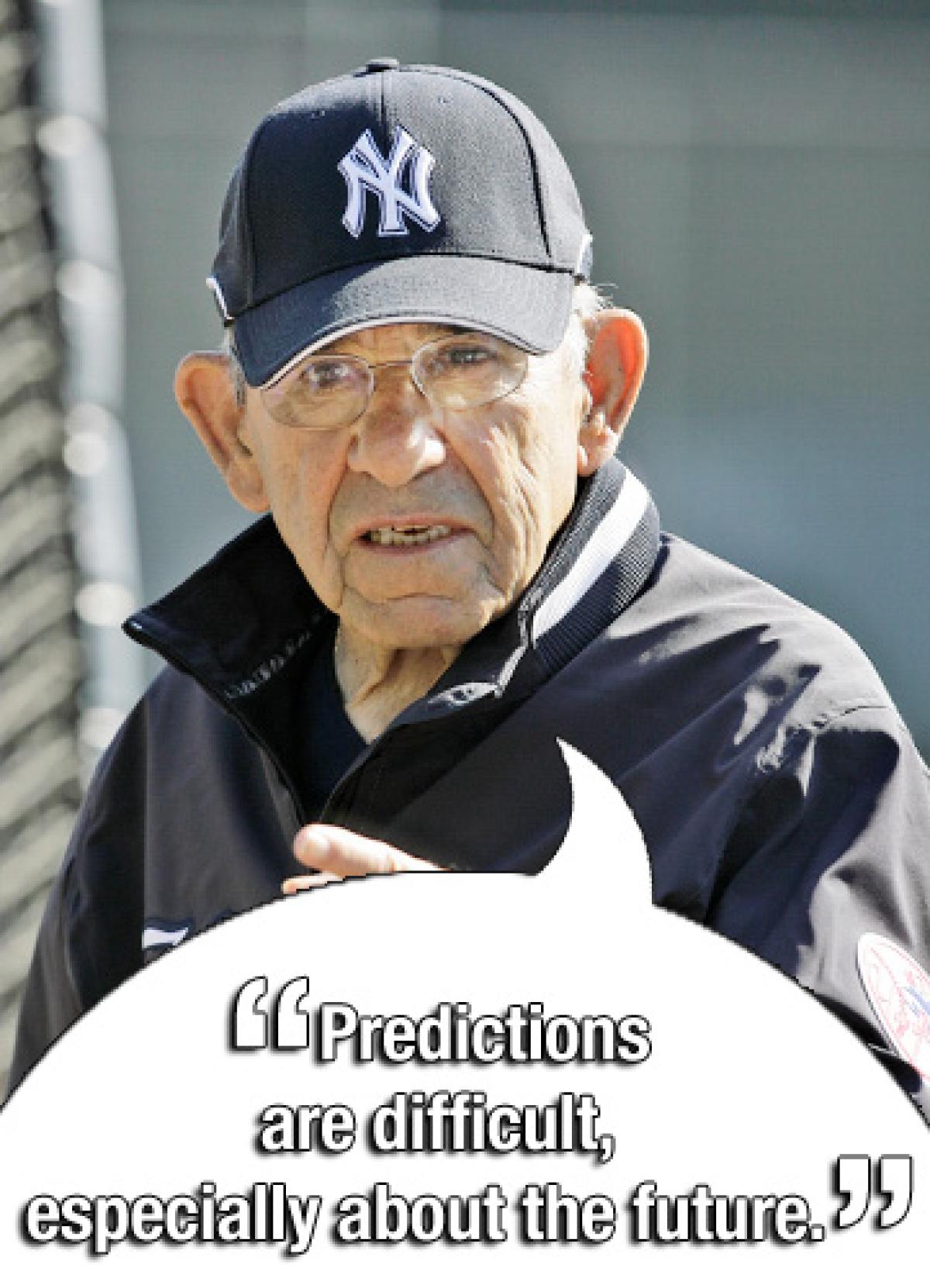 –
–
" When you come to a fork in the road… take it. "

–
–
" You better cut the pizza in four pieces, because I'm not hungry enough to eat six. "

–
–
" It's deja vu all over again. "

–
–
" I want to put a ding in the universe. "

–
–
" I never blame myself when I'm not hitting. I just blame that bat and if it keeps up, I change bats. After all, if I know it isn't my fault that I am not hitting, how can I get mad at myself? "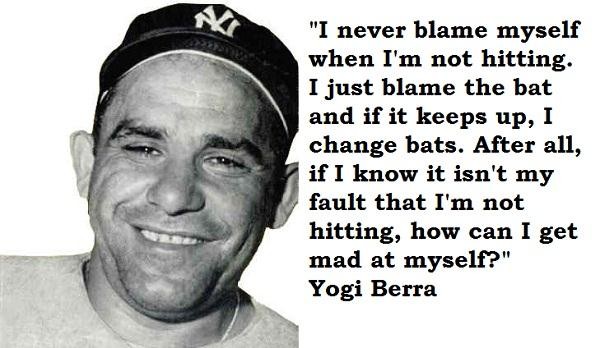 –
–
" In theory there is no difference between theory and practice. In practice there is. "

–
–
" If you don't know where you are going, you might wind up some place else. "