Every year during the spring season, we come across the Holy time of Easter. It is the time when we remember and feel the 'new life' we have been blessed with, due to Christ's sacrifice. The word 'Easter' surprisingly is only known to appear in KJV Bible, that too just for once in Acts 12:4. The word 'Pascha', which has been used, is a Greek word which means Passover. Though there are many Easter Bible verses which make the concept prominent to us.
Bible is known to be a Holy book related to Christianity and its believers. But it also teaches every human being to lead life in the correct way. It teaches what we ought to learn, it teaches what we ought to teach, and it also clears out the regular fights we have with ourselves, and finally help us attain peace.
It is true that we all have our own believes and practices, but it also very important to be related to some kind of religious fellowship, which teaches us the difference between what is correct and what isn't. We have numerous Holy books, there are verses written all over them, and each of them has their segregated categories.
But it is also very true that most of them have similar views and perspective, just written in different languages and different ways. The meanings and teachings are almost equivalent, and this is because we have one God, and His teachings cannot be separate for different individuals.
Easter day is renowned as the Resurrection Day as well. It is denoted as that Holy day when Jesus had risen from the dead. It is one of the biggest occasions which commemorate Christ's resurrection and people all over the world celebrate this auspicious event. Easter Sunday happens to be the culmination after the Lent period of 40 days.
It is preceded by the Holy Week, which marks the main part of Christian theology. This was the time, when Christ's spirit was reborn, and all the aspects which lead to this miraculous occasion is all the more beautifully woven in the bibles verses.
As you read through the Easter Bible verses, you would come across the quotes which have been perfectly selected to relate to this event. All the verses are related to His crucifixion, burial and then resurrection. It is amazing to see how beautifully, the verses from numerous chapters relate to these set of events, even when they go on explaining what that particular chapter relates to.
As you go through these Easter Bible verses, you will get to know more about the story of the Christ's crucifixion, demise, burial and finally resurrection. Study the verses and get to know how our risen Savior had taken all our sins away. These verses could help you to make some beautiful greeting cards, decorations, projects, etc. These are sure to brighten up the celebrations more. You must share these verses with your friends and families to make them feel God's love as you did.
Easter Bible Verses
–
–
" God made him who had no sin to be sin for us. So that in him we might become the righteousness of God. "
–
–
" Now when Jesus saw the crowds, he went up on a mountainside and sat down. His disciples came to him, and he began to teach them. "

–
–
" For God so loved the world that he gave his one and only son, that whoever believes in him shall not perish but have eternal life. "
–
–
" For God so loved the world that he gave his son, that whoever believes in him shall not perish but have eternal life. "
–
–
" In his great mercy He has given us new birth into a living hope through the resurrection of Jesus Christ from the dead. "
–
–
" I am the resurrection and the life. He who believes in Me, though he may die, he shall live. And whoever lives and believes in me shall never die. "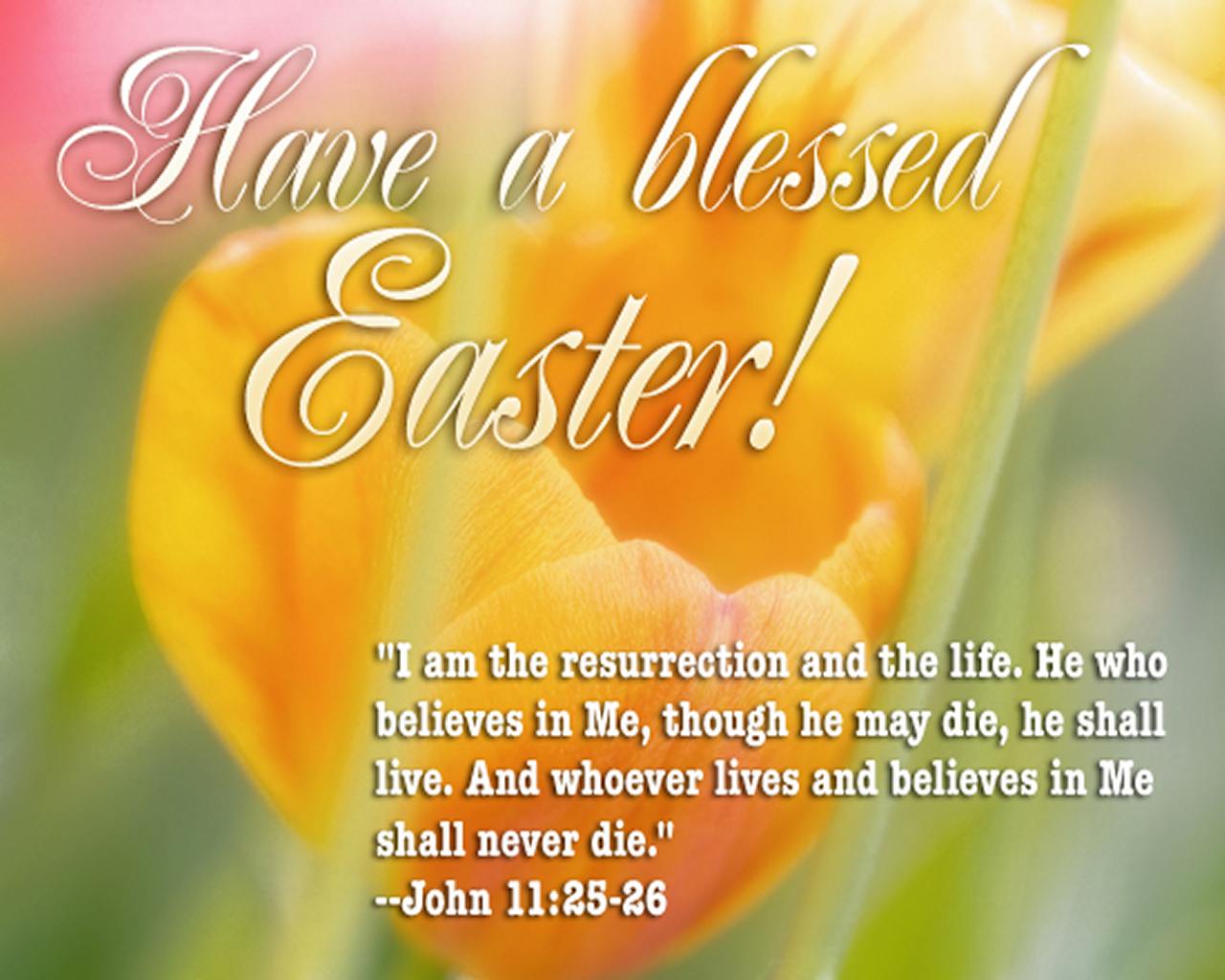 –
–
" Death is conquered. Man is free. Christ hath won the victory. "

–
–
" For God so loved the world, that He gave his only begotten son, that whoever believes in Him should not perish, but have eternal life. Wishing you a blessed Easter. "
–
–
" When he has received the drink, Jesus said, It is finished. With that, he bowed his head and gave up his spirit. "
–
–
" Jesus said to her, ' I am the resurrection and the life. He who believes in me will live, even though he dies; and whoever lives and believes in me will never die. "
–
–
" To you the night shines as bright as day. Darkness and light are the same to you. "
–
–
" He is not here;
He had risen,
Just as he said. "
–
–
" Jesus Christ is risen today, Alleluia!
Our triumphant holy day, Alleluia!
Who did once upon the cross, Alleluia!
Suffer to redeem our loss, Alleluia! "
–
–
" Woman, great in your faith! Let it be done for you as you wish. "
–
–
" I will instruct you and teach you in the way you should go; I will counsel you and watch over you. "
–
–
" He is risen celebrate the saviour. "
–
–
" He is not here, but has risen. Remember how he told you, while he was still in Galilee. "
–
–
" And they found the stone rolled away from the tomb, but when they went in they did not find the body of the Lord Jesus. "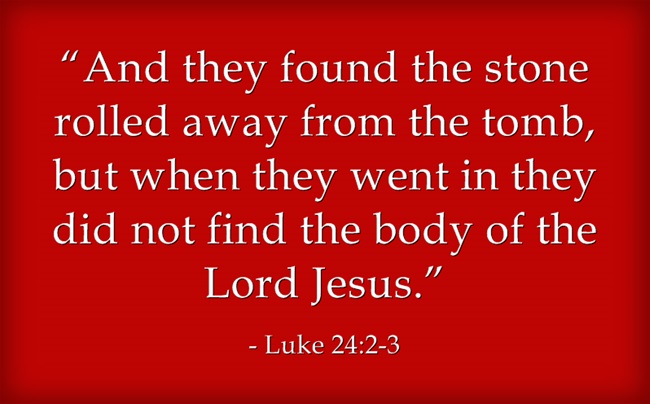 –
–
" Blessed be the God and Father of our Lord Christ, who according to his great mercy has caused us to be born again to a living hope through the resurrection of Jesus Christ from the dead. "

–
–
" To the Jews who had believed him. Jesus said, if you hold to my teaching, you are really my disciples. "
–
–
" Jesus said to her, " I am the resurrection and the life He who believes in me will live, even though he dies; and whoever lives and believes in me will never die. Do you believe this? "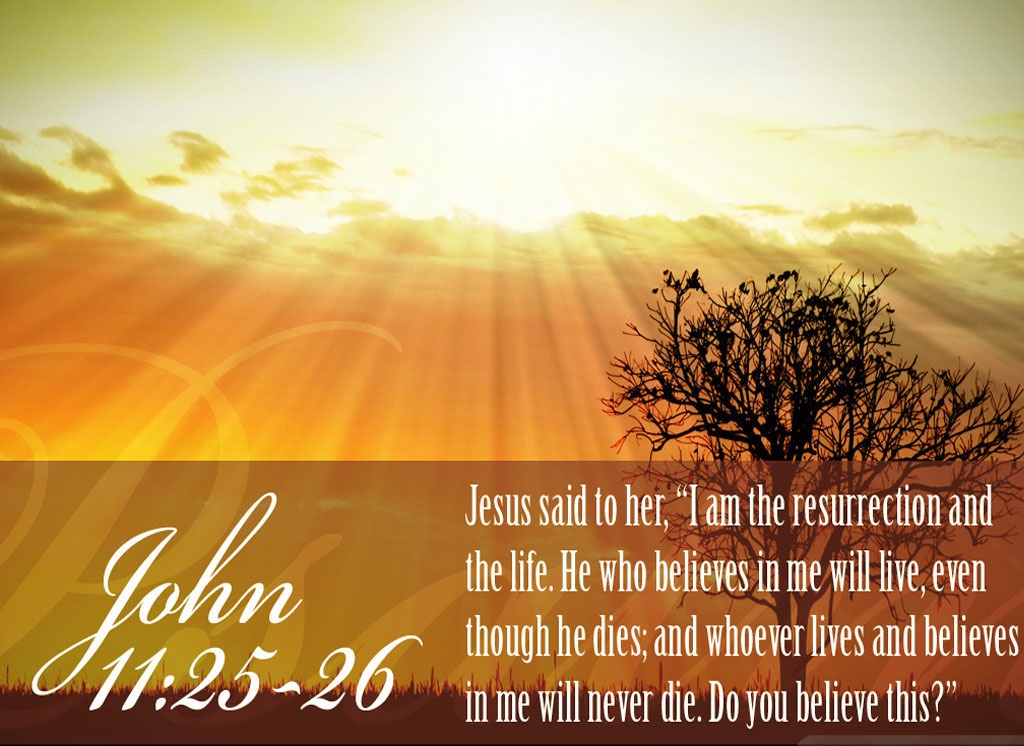 –
–
" I am the vine; you are the branches. If a man remains in me and I in him, he will bear much fruit; apart from me you can do nothing. "

–
–
" And with his wounds we are healed. "

–
–
" You are my hiding place from every storm of life; you even keep me from getting into trouble! You surround me with songs of victory. "
–
–
" He is not here: for he is risen, as he said. Come,see the place where the Lord lay. "